Sound Byte 5 for macOS is available, which runs on Catalina 10.15, Big Sur 11 and Monterey 12 as well as select previous macOS versions, visit the download page to download your copy.
With Sound Byte, the so-called "cart machine" used at commercial radio stations in the past is now available to anyone with a computer! Sound Byte is available for Windows and macOS (Mac OS X) systems.
Whether you're programming a commercial radio show (or amateur podcast), adding spice to the commentary at a local sporting event or simply organizing your personal playlist, Sound Byte beats the competition hands down at a great price. We're so sure that you'll love it that we'll let you download a copy risk free!

Sound Byte Control, a remote control app for Sound Byte, is now available for the iPad, iPhone and iPod Touch. An Android version is also available.
There is also a version of Sound Byte itself available for the iPad, iPhone, and iPod Touch

Sound Byte is perfect for:
Radio, podcast and TV productions - have ads, announcements, songs and sound effects at your fingertips
Theater Productions - play any sound effect on cue
Sports Events - jazz up the commentary for your home team with sound effects each time they score
Ham radio operators - generate CQ calls for contesting and more
Music Lovers - organize YOUR collection YOUR way
Sound Byte is the digital automation software for a variety of recorded sounds. It handles all audio formats supported by Quicktime, including: Available for both Mac and PC, you'll enjoy features not found in more expensive software. For example, you can: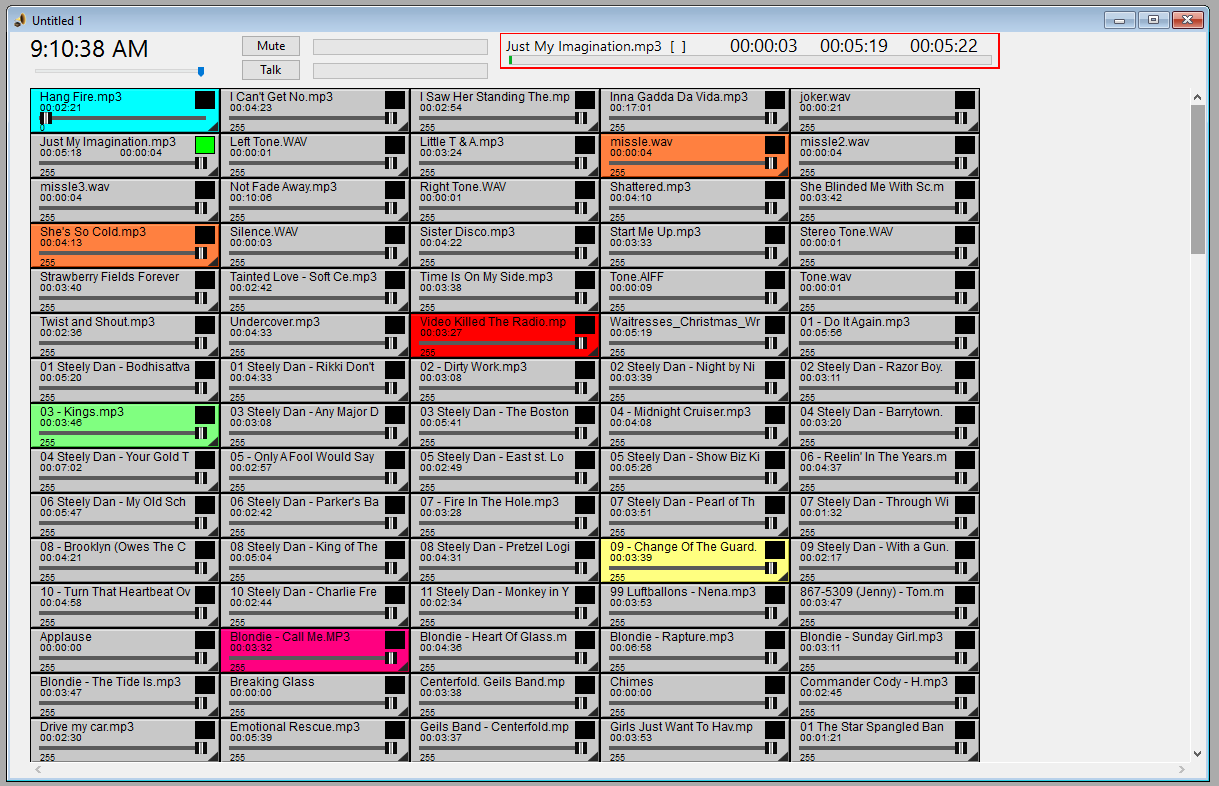 Select up to 75 recordings per rack (screen) and assign a button to each
Assign Hot Keys to access individual sound effects at the touch of a button
Play multiple recordings simultaneously
Organize playlists in an order YOU control
Master the Timed Playlist feature for perfect timing every time
Use a MIDI keyboard to trigger sound playback
Direct sounds to different output devices and channels
Sound Byte has extensive MIDI control capabilities, making it easy to trigger cart playback, adjust volume, fade, abort sounds, change racks, and so on.
Not sure you need all the bells and whistles? Black Cat Systems offers Sound Byte in three versions, so you purchase only what you need.
Sound Byte supports five racks of carts, or up to 375 recordings total.
Sound Byte Lite supports a single rack of carts, or up to 75 recordings total.
Sound Byte Pro supports fifty racks of carts, or up to 3750 recordings total.
The regular and Pro versions of Sound Byte allow you to archive your racks, to make backups, as well as to copy them to another machine. All of your sound files are included in the archive, making it easy to lay out your rack on one machine and move it to another.
A playlist feature allows you to organize sound clips to be played in a particular order.
There's also a timed playlist, so that you can program certain sounds to play at an exact time. Perfect for a live radio show or other event!
Take a look at our detailed description of Sound Byte Features
Sound Byte makes a great voice keyer for ham radio contests.
A Remote Control program for Sound Byte is presently under development.
You may also wish to take a look at Audiocorder - an audio recording program for the Mac.
Still not sure? Then try Sound Byte risk-free! Give it a try. See for yourself how easy it is to use. Once you're convinced that this is the best digital sound automation software out there, simply register your copy and continue enjoying all the wonderful Sound Byte features. If for any reason you decide Sound Byte isn't for you, just delete your copy. It's that simple. (Any sound files shown are for illustration purposes only, none are provided with Sound Byte.)

The latest version of Sound Byte is 4.7.6




Sound Byte starts at just $39
Buy your copy online, and get your registration code in minutes!
What people are saying about Sound Byte:
I play keyboards in a rock band called Neurosis and I use SoundByte for live playback of sound texture tapes. Beats the heck out of an iPod in so many ways. You guys rock. - Noah

We have an Internet Radio Station and have been on the air for over two years. We air a "Live Call In Program" on Wednesday nights and yesterday was the first night we used Sound Byte and it worked without a hitch... SUPER Product! - Wes

Thanks to Black Cat Systems, the best part of the cart idea is back again and in a digital audio format that makes it a must for anyone in theater, radio or recording. It's awesome! All the sounds you need, right at your fingertips. - Joey Stuckey, award-winning guitarist, songwriter, singer, composer, producer, radio personality, teacher, and sound engineer.

LOVE the app, worth EVERY penny and would have easily paid more for it. Kills any other live radio app we've used. Even the bloated several hundred dollar apps... Love it love it love it. Thanks again! - JMack

This program is quicker and more user friendly than any hardware based unit out there. I use this program EVERYDAY while mixing network television and could not work without it. Thank you for a great product. - Randy P.

I like this Sound Byte thing a lot! It's pretty nice stuff. I can play any files no matter where they are, even if they are on a different hard drive. Nice! - Fred C.

After using your software for our hockey games the parents stuck running the music are very pleased on how easy this program made our job simpler. - Guy W.

I love Sound Byte, I use it on my radio show every morning and everyone is blown away at how I can whip the pants off anyone using one of those hardware based units. - Scott P.

I just wanted to say, WOW, Sound Byte is truly an awesome program. I love the simplicity, instant response, and the compatabilty with every sound file I can think of. I never buy software, but I bought this within minutes of trying it out. - Jeffrey H.

I sure love SoundByte. I run the music for some of our local minor hockey teams and it works famously. I have had several people ask me about it and they are really impressed when I tell them about the free trial and the very reasonable registration cost. Thanks for making such an excellent product. - Trevor G.

I love the product. I host a morning news/talk show in Lansing Michigan. I've always used a lot of audio, but my studio producer had to insert the audio which is a coordination issue (especially with drop-ins, quick sound bytes etc.). Now I have total control over audio. - Walter S.

Your program has made running sound cues in our little non-profit theatre very easy. For the money, there is nothing out there that compares. Thank you for keeping it affordable! - Mark C.

SoundByte Enhances Radio/Podcast production - Craig Crossman

Note for Catalina/Big Sur users: if you check the automatic graphics switching box in the Energy Saver system preferences, there can be a delay before carts starting playing. So we recommend you keep this box unchecked.