Knitting Wizard
Create custom knitting grids in minutes!
For Windows and Macintosh
If the knitter is weary the baby will have no new bonnet. ~Irish Proverb
Bring your knitted concepts to life with Knitting Wizard! Save time, and avoid the numerous mistakes that come with transferring your designs to graph paper, with Knitting Wizard's "goof proof" menu.
Knitting Wizard does everything for you:
Control the number of stitches and rows per inch and adjust them easily
Control the total number of stitches and rows
Select from a dozen standard paper sizes, or create your own custom size
Decide to print out row and stitch numbers or not - it's up to you
Emphasize marker lines to create Easier-to-Read diagrams instantly
Diagrams saved as pdf files, so you can print them whenever you wish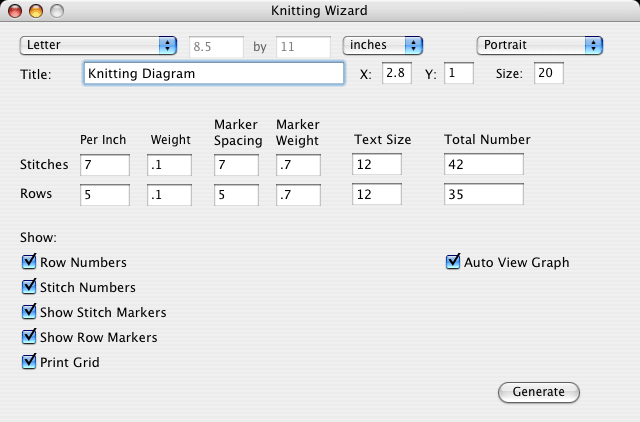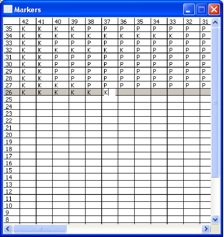 Open the Markers button and create your pattern in the grid (shown here).
You can adjust the grid as you're working on the design - Knitting Wizard will retain all the information you've entered!

Once you've added the information, just click the Generate button, and you're done. It's that easy. And your custom diagram is saved as a .pdf file, which lets you print them on any printer you wish, from anywhere!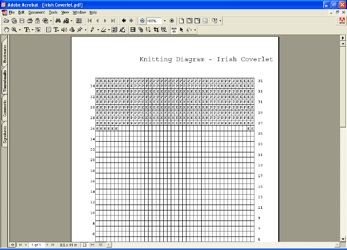 Imagine all the uses:
Home Crafters - share your designs with other family members or fellow knitting friends and stay connected
Teachers - easily create diagrams you can print again and again to share with students
Professional Crafters - submit your designs to craft magazines in a convenient .pdf format
You can download a copy of Knitting Wizard to try out - before you buy your copy. See the download options at the bottom of this page.
| | Purchase Option | Price | Delivery | Details |
| --- | --- | --- | --- | --- |
| | | $19.99 | Email | Registration code sent by email, software download |
| | | $19.99 | Email | Registration code sent by email, software download |
| | | $10.00 | Email | Registration code sent by email, software download |



Knitting Wizard is only $19.99, which entitles you to all updates and new versions released over the next full year, free of charge, which of course you can continue to use forever.

EU Residents: Please note that purchases through Kagi from residents of the EU will be subject to VAT. Purchases through PayPal or directly with Black Cat Systems by international money order or cash are not subject to VAT. This only applies to residents of the European Union.
Download Options:

Knitting Wizard 1.2.0 for Mac OS X - Mac OS X 10.10 and later 64 Bit (16 October 2019)
Also available in dmg format.

Note to Mac OS X Users: Be sure to drag the program icon out of the mounted disk image folder, say into your Applications folder, before running it!

Knitting Wizard 1.1.2 for Windows - Windows XP, Vista, 7, 8 10 Installer program (1MB)

Also available is Knitting Wizard 1.1.2 for Windows - Windows XP, Vista, 7, 8 10 ZIP File(1MB)


Knitting Wizard 1.1.0 for MacOS Classic - Mac OS 8.6 and later (1MB)
---
Email your comments and questions to info@blackcatsystems.com

Last modified October 16, 2019