Black Cat NAVTEX SITOR-B
A full featured program that decodes and displays NAVTEX and SITOR-B maritime transmissions on shortwave radio, available for macOS and Windows.

Tune your HF / shortwave radio or SDR to a NAVTEX or SITOR-B frequency and feed the audio into your computer's sound card input, and start receiving and displaying transmissions in minutes.

Works great with SDR software and virtual audio cables! Run up to 8 NAVTEX SITOR-B decoders in parallel at the same time, each tuned to a different frequency.

You can change the color scheme and font type/size to your preferences.

Black Cat NAVTEX SITOR-B is available for download and trial prior to purchase, so you can make sure it works correctly with your setup. It's available for Windows 8 10, and 11 (Windows 7 is not supported) as well as macOS.

The main window displays recently received messages along with a convenient and thoughtfully arranged user interface (click on any image below for a full sized version) with decodes from each frequency both separately shown as well as combined into one view: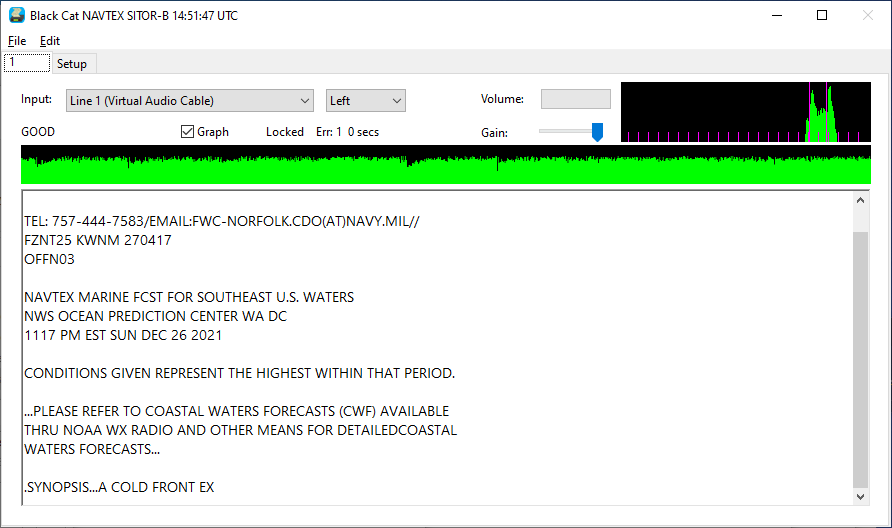 There's also a schedule window, so you can easily see what transmissions are on the air now, or are upcoming: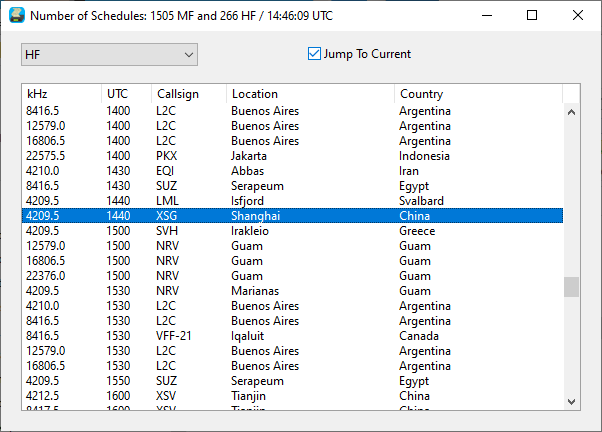 ---
Beta Versions:
Preliminary beta versions. Likely to have bugs. Features/appearance/operation will evolve, perhaps substantially, over time. As updates can always break things, or change program features/operation, please be sure to keep a copy of your existing version when download a new version.

Black Cat NAVTEX SITOR-B 0.3.0b1 for Windows - Windows 8 / Windows 10 / Windows 11 - 15 November 2022


Black Cat NAVTEX SITOR-B 0.3.0b1 for Mac OS X - Mac OS X 10.10 to Monterey - 15 November 2022
---
A virtual audio cable/driver is required for use with SDR programs. We have a list of third party programs here.
---
Email your comments and questions to info@blackcatsystems.com

Last modified November 15, 2022