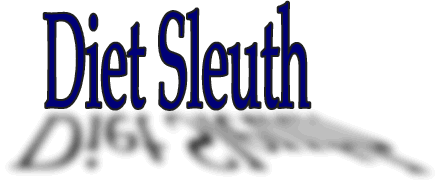 Diet Sleuth is one of the most complete diet software programs available for both Windows and the Macintosh. It is a nutritional database and personal health logbook.

Download a copy of Diet Sleuth right now, to try out without obligation!




The cost of buying Diet Sleuth is only $34.99!
Buy your copy online, and get your registration code in minutes!
We're so sure that you'll find Diet Sleuth useful that we're offering you a risk-free deal. You can go ahead and download a copy of Diet Sleuth for absolutely free. Give it a try, see how information packed and easy it is to use. Once you've decided that you find it useful, go ahead and buy your copy for just $34.99. If for some reason you decide Diet Sleuth isn't for you, just throw away your copy. That's it!
Diet Sleuth allows you to keep track of what foods you eat each day, and their nutritional value. For each day, you select the foods you have eaten, and the number of servings of each. Diet Sleuth will automatically calculate your caloric intake, fat grams, carbohydrates, fiber, protein, cholesterol, along with sodium, potassium, and calcium.
You can select from over 5000 different foods from 21 categories, including fast food, lunchmeat, junk food, seafood, and baby food.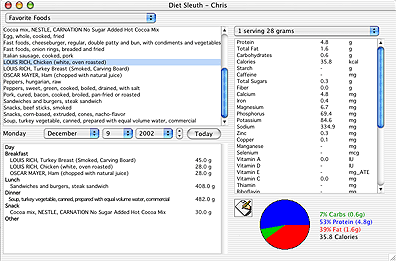 In addition to the included food groups, you can create and edit your own foods in a separate catagory. You can also create a category of favorite foods to quickly access commonly used foods. In addition, you can enter nutritional information for your own custom foods. Diet Sleuth users can exchange custom foods with each other.

A built-in Recipe Editor allows you to quickly enter a custom recipe, with the nutritional information automatically calculated, based on the ingredients.

Diet Sleuth can also keep track of your daily weight, and calculate your EER or Estimated Energy Requirements, which is an estimate of how many calories you burn each day, based on various factors. This lets you estimate how much weight you can expect to lose on a given day, based on your caloric intake.

You can graph your weight, as well as your total calories, fat, carbs, and other nutrients for each day:
Diet Sleuth can display information for the following nutrients (not all foods have data for each nutrient):
Protein
Total Fat
Carbohydrates
Calories
Starch
Caffeine
Total Sugars
Fiber
Calcium
Iron
Magnesium
Phosphorus
Potassium
Sodium
Zinc
Copper
Manganese
Selenium
Vitamin A
Vitamin D
Vitamin E
Vitamin C
Thiamin
Riboflavin
Niacin
Pantothenic acid
Vitamin B-6
Vitamin B-12
Folate, total
Folic acid
Folate, food
Folate, DFE
Cholesterol
Trans Fatty acids
Saturated Fatty acids
Monounsaturated Fatty acids
Polyunsaturated Fatty acids
Trans-monoenoic Fatty acids
The current release version of Diet Sleuth is 6.0.0






The cost of buying Diet Sleuth is only $34.99!
Buy your copy online, and get your registration code in minutes!
You may also wish to take a look at Health Tracker - a graphing program to track health related measurements, such as your weight losses or gains.
Save $10 by registering Diet Sleuth in conjuction with Health Tracker for only $44.99!
Diet Links - Check out our list of diet related resources!
---
Awards and Ratings!