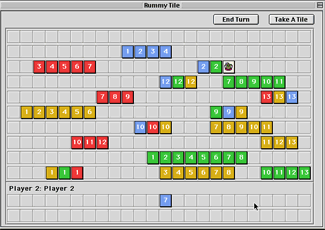 RummyTile is an addictive rummy-type game played with tiles, loosely based on the Turkish game Okey. The object of the game is to make sets of runs or groups of numbers in order to get rid of all your tiles before your opponent. You are able to manipulate the tiles on the game board in order to place your tiles. Up to four players may play at a time.
RummyTile is easy to learn, but the complexities of different strategies make the game interesting for all age groups.
RummyTile is freeware.

The current version of RummyTile is 1.0.1, released on July 24, 1999.
Rummy Tile is only available for Macintosh systems. No Windows version is available.
You can download a copy of RummyTile. (237K) in MacBinary Format
(If you have troubles downloading, your browser may not be properly configured. Click on the download link, hold down your mouse, and select Save As... from the pop-up menu. If you still can't download sucessfully, try the slightly larger BinHex version)
You can download a copy of RummyTile. (321K) in BinHex format

Don't feel like spending the time downloading? Purchase the Black Cat Systems CD-ROM for only $5, and get all our great programs at once! Plus, you'll get a coupon for $5 off registration by check or money order of any of our programs.
The CD-ROM does not include registration of the programs. Registration costs are extra.
Coming Soon:
Computer Opponents
Scoring
Timed Play
Multi-player / networked play

to Black Cat Systems for more Mac software

---
Email your comments and questions to rummytile@blackcatsystems.com

Last modified June 24, 1999