Now connecting your Icom radios to your computer has never been easier!
The USB CI-V Interface plugs into the USB port of a Windows, Macintosh or Linux computer, allowing an Icom (or other CI-V interface) radio to be connected and controlled via the CI-V (CIV) protocol. An attached 6 ft USB cable plugs into a standard USB port on your computer. One standard 1/8" cable to connect to your radio's CI-V port is included.
The interface acts like a standard serial port, so it works with all radio control programs. Note that it does not control the PTT line or pass audio.
The USB Icom CI-V Interface is powered off the USB bus, no external power is required.
It is effectively equivalent to the combination of an Icom CT-17 along with a USB to serial interface, without the tangle of wires and extra power supply. It will work with any radio that has a standard Icom CI-V interface jack. Such radios include:
 
IC-1275, IC-275, IC-375, IC-475, IC-575, IC-7000, IC-703, IC-706, 
IC-707, IC-718, IC-725,IC-726, IC-728, IC-729, IC-735, IC-736, IC-737, 
IC-738, IC-7400, IC-746, IC-756, IC-761, IC-765, IC-775, IC-78,
IC-7800, IC-781, IC-820, IC-821, IC-910, IC-970, IC-R10, IC-R20, 
IC-R7000, IC-R7100, IC-R72, IC-R75, IC-R8500, IC-9000L

If your radio is not listed, but it has a CI-V interface, it will work with that radio. Please check the manual for your radio to make sure that it has a CI-V port, and whether or not you need any special wiring. The USB CI-V Interface comes with cables designed to work with a STANDARD CI-V port. Note that some radios, such as the Icom R-20, have a special CI-V jack that also has audio. You'll need to make a special cable for such radios, to only pass the ground and CI-V signal, and not the audio.
Included drivers (for Windows XP/Vista/Windows 7 and Macintosh MacOS 8.6-9.2 and Mac OS X 10.2 or later) create an emulated serial port (COM1-COM8 for Windows, Communications Toolbox compatible for Macintosh) that allow any well behaved application to use the USB Icom CI-V Interface as though it was a normal serial port.
No other software is included with the unit, but most if not all existing Icom control programs should work with the USB Icom Interface CI-V, as it appears as a normal serial port. See the bottom of this page for links to some programs.
The USB CI-V Interface is only $59.00 plus $10.00 shipping within the USA. Overseas shipping is $55, this includes Canada.
A two port version is available for $69.00, and a four port version is also available for $89.00. If you connect two or more radios, they all appear on the same COM port, you need to use software that is capable of talking to multiple radios. You can only run one program at a time to control the radios, since there is only one serial port.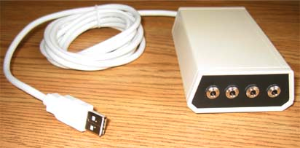 You can purchase the USB CI-V interface through
PayPal
You can also mail your order with payment by check or money order, print and fill out the
mail order form
.
Radio Control Programs
We offer a simple program called BCSIcom which can let you test out your USB CI-V link. It polls the radio to display the frequency and mode, and lets you set them as well. It is not a full featured radio control program, but it is handy to check out that the basic hardware, USB CI-V Interface, and drivers all work.
BCSIcomOSX BCSIcom for Mac OS X. Universal Binary for Intel and PowerPC Macs (zip format)
BCSIcomOSX BCSIcom for Mac OS X. Universal Binary for Intel and PowerPC Macs (dmg format)
BCSIcomMac BCSIcom for MacOS 9. (sit format)
BCSIcom BCSIcom for Windows. (zip format)
Dog Park Software has several excellent logging, memory management, and satellite tracking programs, all for the Macintosh.
Look what our customers have to say:

Thank you for the prompt service!
Your USB->CI-V is working great with MacLoggerDX running with my IC-718!
Maurice, AB8XA

I have tried your USB CIV with N1MM, Ham Radio Deluxe, MMTTY, Hamscope and it works perfectly and very fast with all of them. I wish everything worked as well as this thing does. Thanks again!
Dave, N1NQX

The interface worked fine with the ic7000 and write log...Pretty much plug and play.
Chuck, KG9N

I received the USB CIV in the mail this afternoon, had no problems installing it (it took maybe 15 minutes total :-)), and I'm now enjoying learning to use "Ham Radio Deluxe" to control my ICOM 756.
Fred

Thanks for a great product, you saved me about $80 with your product for my ICOM-706MKIIG, very easy hookup, about 2 min.
Louis Taylor - KD6SBR "Tom"

Just wanted to thank you for the prompt delivery of the interface. Very nice and working great.
Rick - VE3PNK

I received the unit today and the setup went really well. Installed the OSX drivers. It worked with BCSIcom test program. I then configured VirtualPC 7.02 to use the usbserial-FTPQNU20 as COM1. Everything I tried so far has worked within Virtual PC - Ham Radio Deluxe and N3FJP's Amateur Contact Log. USB support within Virtual PC 7.02 is rocky at best so I was glad that the unit works as COM1. Thanks for selling these!
David KB5DRJ