MacDSP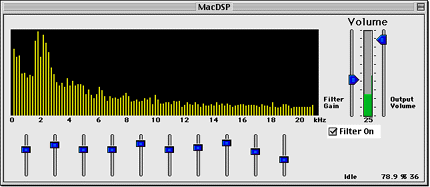 What is it?
MacDSP is a digital filter for Macintosh computers with a PowerPC processor. It is currently under development. But you can download a copy of the latest release, and give it a try. Your comments and suggestions, as well as bug reports, are certainly appreciated.
What's in the latest version?
The latest version of MacDSP breaks the audio spectrum up into ten bands, the amplitude of each band can be controlled. The bands are spaced on a geometric basis (that is, they are not linearly spaced). Each band is made up of a second order Bessel filter, designed to pass only the audio frequencies within that band. It works much like an equalizer does in your stereo.
How does it work?
You connect your audio source to the Mac's microphone jack, select the low and high pass frequencies, and MacDSP will do the rest.
How much does it cost?
MacDSP is free. Just download a copy, and give it a try.
What do I need?
MacDSP is only available for PowerPC equipped Macintosh systems. No Windows version is available. Intel processors are probably too slow, anyway.
You can download a copy of MacDSP in BinHex format (Version 0.3.0 188k)
What if it doesn't work?
MacDSP creates a file called STARTUP_STATUS_DEBUG when it runs. This shows step by step what the program did while it started up, and after it was told to quit. It can be quite useful to me if you're reporting a bug. It's a text file, so you can include it with your email, or attach it. (including it is preferable, that way I won't have as many attachments laying around)

Warning: require(../pages/pages.html) [function.require]: failed to open stream: No such file or directory in /usr/www/users/bcs/software/macdsp.html on line 98

Fatal error: require() [function.require]: Failed opening required '../pages/pages.html' (include_path='.:/usr/local/lib/php') in /usr/www/users/bcs/software/macdsp.html on line 98