Black Cat CW Keyer
Black Cat CW Keyer lets you send morse code from your computer. You can type out the text to be sent (immediately or buffered) as well as create and send from one key macros. You can also send from text files. All this makes it incredibly easy to send CQs and for general QSOs as well. It's also a great tool for contesting!
Below is the main window from Black Cat CW Keyer. You can set the speed (WPM) and pitch or tone (Hz) of the CW transmitted, as well as select whether your input should be buffered (sent only when you hit return) or immediately upon typing it.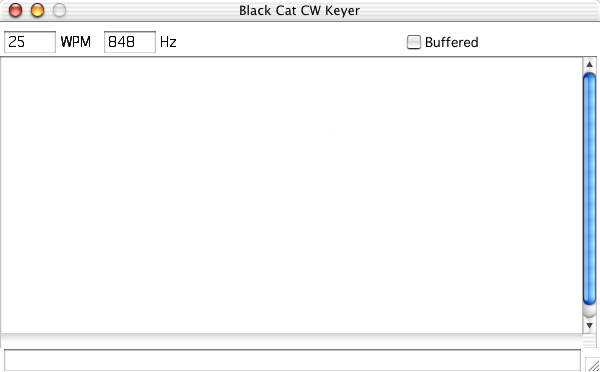 Next is the Macro window. You can create dozens of macros, each of which can be sent with a single keystroke. No more sending endless CQs! Just create a custom macro, and quickly and easy send it. Great for contesting too!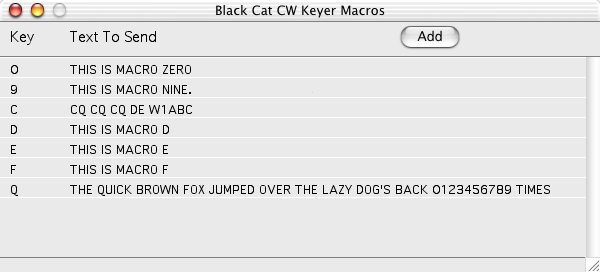 We're so sure that you've find Black Cat CW Keyer useful that we're offering you a risk-free deal. You can go ahead and download a copy of Black Cat CW Keyer for absolutely free. Give it a try, and see how easy it is to use. Once you've decided that you find it useful, go ahead and buy your copy. If for some reason you decide Black Cat CW Keyer isn't for you, just throw away your copy. That's it!
The current version of Black Cat CW Keyer is 1.0.1.
Note: Black Cat CW Keyer does not run under Mac OS X Lion or later. We suggest you take a look at our MultiMode app instead, which can send and receive morse code, as well as many other ham radio modes.






The cost to buy Black Cat CW Keyer is only $19.99!
Buy your copy online, and get your registration code in minutes!
Black Cat CW Keyer is only available for Macintosh systems.
---