Dual Channel Coincidence / Anti-Coincidence Detector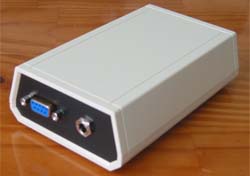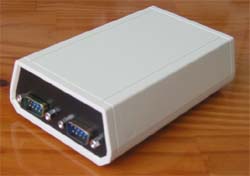 A coincidence detector allows you to connect two GM-10 or GM-45 detectors and detect muons from cosmic rays. This unit is similar to our standard Coincidence detector except that it also provides indications of when there is a detection event in just one detector.
How It Works
Cosmic rays produce showers of radiation when they enter the atmosphere from outer space. These showers produce thousands of particles of radiation, so that two detectors, close to each other (or on top of each other) will both detect radiation at the same time. This is called a coincidence detection. (Normally, this would otherwise never happen under normal background radiation levels)

The dual channel coincidence detector looks at the output from each detector. While either indicates detection of radiation, the unit checks to see if the other detector is also indicating detection. This information is sent to the computer as a single character, either the ASCII digit 1, 2 or 3. A 1 or a 2 means just one detector had an event, a 3 means that both did, which is typically the result of a cosmic ray.

This means that in addition to detecting coincidence events, the dual channel coincidence detector allows you to also record other types of events:
Channel A detection
Channel B detection
Channel A or B detection (sum)
Coincidence detection (A and B at the same time)
Anti-Coincidence detection (channel A or B but not both)
Anti-Coincidence Channel A detection (channel A but not channel B)
Anti-Coincidence Channel B detection (channel B but not channel A)
The dual channel coincidence / anti-coincidence box requires -12 volts DC from a supplied AC transformer power supply, (overseas (non USA/Canada) orders do not include the adapter, you must supply your own).
The Dual Channel Anti-Coincidence Box is $199.99.