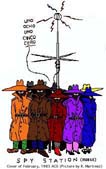 The
Numbers
Racket
A Multimedia CD-ROM
This packed CD-ROM features over 10 hours of recordings of Spy Numbers Stations, along with text describing stations, their format, frequencies used, schedules, background information, and more.

Many of the stations on this CD are no longer on the air, so this is the only way to hear these fascinating stations of yesteryear.

All stations are available from a complete ENIGMA listing, for complete accuracy. In addition, many of the stations are also listed using their popular name.

The CD-ROM is organized as a web site, so it is viewable by any computer with a CD-ROM drive and modern web browser, including both Macintosh and Windows.

Just $25. Only available in the USA, no foreign orders due to high shipping costs for international mail, sorry.
Table of Contents:

    1.Introduction 
    2.Why Numbers Stations? 
    3.How Are Messages Sent? 
    4.Terminology 
    5.How To Listen 
    6.ENIGMA Classifications 
    7.Morse Code Stations 
    8.Station Families 
    9.The Babbler 
   10.The Bored Man 
   11.Bulgarian Betty 
   12.The Buzzer 
   13.The Cherry Picker 
   14.The Counting Station - The CIA 
   15.Cuban Atencion Stations 
   16.Czech Drums and Trumpets 
   17.Czech Lady 
   18.DFC37 and DFD21 
   19.Fife Free 
   20.Four Note Rising Scale 
   21.High Pitch Polytone 
   22.KKN50 
   23.The Lincolnshire Poacher 
   24.Magnetic Fields 
   25.MOSSAD - Israeli Intelligence 
   26.Mystery Beeper 
   27.New Star Broadcasting Station 
   28.NNN Station 
   29.Oblique 
   30.Old Phonetic Alphabet Stations 
   31.OLX 
   32.The Rasper (LINK-11) 
   33.Ready Ready 
   34.The Russian Man 
   35.The Skylark 
   36.Single Letter High Frequency Markers 
   37.Six Tone Station 
   38.Strich 
   39.Swedish Rhapsody 
   40.Three Note Oddity 
   41.Two Letter Phonetic 
   42.Whales / Backwards Music 
   43.The Woodpecker 
   44.Station YT 
   45.Parodies of Numbers Stations 
   46.The Warrenton Training Center 
   47.Other Sources of Information 
   48.Language Guide 
   49.Bibliography 
   50.Havana Moon 
   51.Contributors 


---